(10/99) The next one below is Jean Giono (Giona?). It's an intense yellow-orange with a red-orange interior. *Not* one of the delicate pastel colors... very bold. This one isn't shy about its' color at all ;-)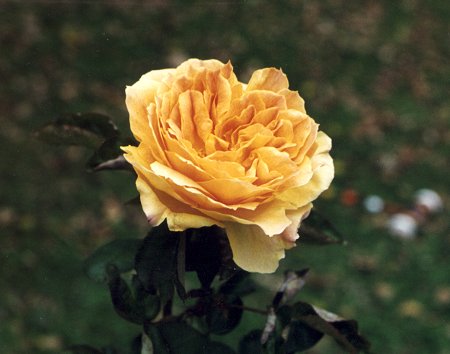 Both of these seem pretty hardy. Neither has gotten any black spot or mildew this summer (2000), even though it seems that it's rained about ever other day... and I haven't been spraying all that faithfully either.
Lastly is a gorgeous double or triple lily that we have a whole bed of. Since Caroline's grandparents planted them, I have had no idea what they are, but they have neat blossoms with the double, concentric sets of petals and darker striping on the petals. Here's a larger close-up. In my garden, they grow very easily and prolifically for me and they're really beautiful.
(yes, of course I know lilys aren't roses, but I threw the pic in here because it was beautiful and I don't have a 'lily' page ;-)
According to Clariece Wilkinson, this plant's common name is just "orange double day-lily."
These seem to be called Hemerocallis fulva 'Kwanso' or Hemerocallis 'Kwanso'.
Hemerocallis fulva seems to be the general name for orange day lilies and 'Kwanso' is the double and/or triple variety. (thanks to Barbara Gottlock for that info)
Plants Database: Daylily 'Kwanso'
National Council for the Conservation of Plants and Gardens (NCCPG): Hemerocallis fulva 'Kwanso'
Ollallie Daylily Gardens: Hemerocallis Species
BTW, the National Council for the Conservation of Plants and Gardens site has info on taking Flower pictures without Cameras, ie using your flatbed scanner to take pictures of them. Useful to know for those without digital cameras or who would like to experiment with a different technique. Some of the scan/photos shown are really pretty good, and lighting is more even than many camera photos achieve without complex lighting setups.
The guy at HelpMeFind Roses thought it was pretty funny that I got into roses as a result of working on Hortico's site... He considers it a new occupational hazard. They even added some of my photos on HelpMeFind and their database now lists Jeff Wilkinson's Rose Garden. I guess their entrance requirements for a "garden" aren't too high since my 1/2 dozen count ;-)