Grieve Family Tree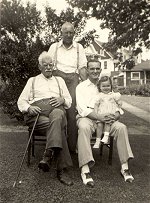 (click for more photos)
I'm putting together what information I have found on the ancestors of my Grandfather, Victor Lowell Grieve (1916 - 1969) as I'm trying to learn more about that side of my family. Luckily I've been able to make contact with some other living Grieve descendents who have a lot more. Here's what I have (online) so far.
If you drop by to read up on our family, please drop me an email or a note in the Guestbook. Enjoy,
Jeff Wilkinson, jwilkinson@mail.com
Privacy Concerns prevent me from distributing the current generation information publicly on the website, so I have provided several forms of information here, some password-protected.
Grieve family photos, including Victor Lowell Grieve, his father Lucien Doty Grieve and mother Tressa Elizabeth Smeltzer and his father George Grieve.
This only shows page 1, from my grandfather, Victor Lowell Grieve, and his ancestors that I know so far. This is public and is not protected. (11x17" version) Updated 8/25/2007.
This Zip file contains PDF files with pages of the ancestor & descendant family tree of Victor Lowell Grieve. Since it contains mostly info of living family, it is private and the Zip file is password-protected. Email me for the password. Do not pass this to non-family without contacting me first please. One file is formatted for 8.5x11" paper and the 2nd for 11x17" paper. Updated 8/25/2007.
These sheets can be printed out and sent to me to give me the information I need for maintaining the family tree. If you have not filled these out for me at family reunions or if your info or that of someone you know is missing or incorrect in the family tree, please fill one out and send it to me. A zipped MS Word97 file is also available.
Kaiser family tree and photos, Naomi Vera Kaiser was my grandmother, married to Victor Lowell Grieve, my grandfather. Not Grieves, but related.
Supporting Documents
Here are a few scans of documents, obituaries, etc. They give some interesting additional information. If you have more related docs - particularly obituaries, please send me a scan, text/doc/html file or link.
Other Resources
Note: I would certainly be interested in additional information about our ancestors. As you can see, I don't have much. I'd also be glad to receive any interesting tidbit-type stories.
Note: If you are interested in our Wilkinson-side genealogy, you'll have to contact my Dad (Richard Wilkinson) or my aunt, Sue Thompson. They are the serious researchers for that side, and have traced our family back and forth for many generations and several potential books' worth. Email me for their contact info if necessary.
File Types: