Kaiser Family Tree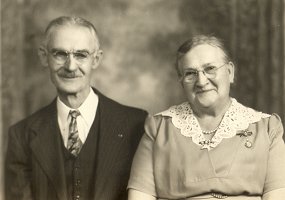 (click for more photos, pages 1, 2, 3)
In the past few years, I have been compiling a family tree of our part the Kaiser clan, mainly as descended from Harry Albert Kaiser (1876 - 1953) and Emma May (Wingerd) Kaiser (1876 - 1969), my Great-Grandparents.
This is not a traditional family tree in that I am not concentrating so much on tracing back to ancestors as much as in documenting all the family relationships of the descendents of Harry and Emma and those who have married into that family. This is to help all of us in the family understand our connections to each other better. As a result, it documents many who would not show up in normal descendant charts, such as step-children, other marriages, etc.
That said, while I concentrate on recent generations, I would certainly be interested in further information about our ancestors. As you can see, I don't have much. I'd also be glad to receive any interesting tidbit-type stories about family members, either living or deceased.
If you drop by to read up on our family, please drop me an email or a note in the Guestbook.
Enjoy,
Jeff Wilkinson, jwilkinson@mail.com
Privacy Concerns prevent me from distributing the current generation information publicly on the website, so I have provided several forms of information here, some password-protected.
This gallery includes group photos from the 2002, 2003, 2005, 2006, 2007 Kaiser family reunions, as well as other reunion photos going back to 1995. If you are family email me for the password. You can download copies or make prints right from the gallery. Photo contributions from others gladly accepted! 8/2008: 2008 reunion shots are there now...
Here are a few interesting photos from our family reunions, of family heirlooms and of Emma Kaiser. Older photos are on page-2 and page-3.
This only shows page 1, the children and known siblings and ancestors of Emma and Harry Kaiser, my Great-grandparents. This page shows what we know so far about our Kaiser & Wingerd ancestors. This is public and is not protected. (11x17" version) Updated 7/17/2009.
This Zip file contains 2 PDF files of all pages of the descendant family tree of Emma and Harry Kaiser. Since it contains mostly info of living family, it is private and the Zip file is password-protected. Email me for the password. Do not pass this to non-family without contacting me first please. One file is formatted for 8.5x11" paper and the 2nd for 11x17" paper. Updated 7/26/2009.
These sheets can be printed out and sent to me to give me the information I need for maintaining the family tree. If you have not filled these out for me at family reunions or if your info or that of someone you know is missing or incorrect in the family tree, please fill one out and send it to me. A zipped MS Word97 file is also available.
Grieve family tree and photos, Victor Lowell Grieve was my grandfather, married to Naomi Vera Kaiser. Not Kaisers, but related.
Currently Researching...
Supporting Documents
Here are a few scans and transcripts of documents, obituaries, etc. They give some interesting additional information. If you have more related docs - particularly obituaries, please send me a scan, text/doc/html file or link.
Person
Dates
Docs
Various
-

Census Hits: I have found a number of interesting US census records for various family members during my research. I'll post that information sometime, hopefully soon.
Kaiser Family Bible data, from Lawrence E. Kaiser, has dates for a number of our Kaiser ancestors

Henry F. Kaiser
1835-1906

Unfortunately we don't know HFK's parents' names, so he is the current dead-end of our Kaiser-line tracing. Any further information would definitely be appreciated.
HFK served in the American Civil War but was discharged early for vision problems that eventually led to legal blindness. He applied for disability benefits, on the assertion that the blindness was a service-related injury. The benefits were eventually denied, but there is an extensive and interesting file on the case in the U.S. National Archives, including information about HFK's early life. I have a paper copy, as do other family members. If you're family and you'd like a copy just ask.
Harry Lee Kaiser Jr. has a "First Defenders" medal that was given to HFK for his early enlistment in the civil war. (photo)
"The Blind Man's Lament" - sung & composed by Henry F. Kaiser

Mary Elizabeth (Black) Kaiser
1845-1906
tombstone
Mary Jane (Boggs) Wingerd
1852-1944
her Bible (with photos)
Harry Albert Kaiser
1876-1953
obit, funeral card
Emma May (Wingerd) Kaiser
1876-1969
obituary, obit-text, article-89th birthday, article-91st birthday,
Clara Susan (Rotz) Kaiser
1906-1978
funeral card
Paul Gordon Kaiser
1914-1986
obituary
Lula Viola (Garvin) Kaiser
1909-1988
funeral card
Lawrence Edgar Kaiser
1898-1991
obituary
Lawrence Edgar and
Hazel Lorraine (Carbaugh) Kaiser
-
65th wedding anniversary article
Mary Loretto (Kaiser) Henry
1908-1993
obituary
Helen Irene (Stouffer) Kaiser
1918-1993
obituary, funeral card, writing
William D. Rosenberry
1935-1994
obituary
Rev. Dr. John Herbert Ness
1919-2000
obituary, census data See also Ness line research.
Elizabeth M. "Bet" McCleary Monn
1920-2001
obituary (mother to Connie E. Kaiser - wife of Harry Lee Kaiser Jr.)
Naomi Vera (Kaiser) Grieve Ness
1918-2002
obituary
Harry Lee Kaiser Sr.
1906-2003
funeral card, obituary
Chester S. Rotz
1920-2003
obituary, photo (brother to Clara Susan Rotz - wife of Harry Lee Kaiser Sr.)
Jack E. Gartside
1917-2004
obituary (2nd husband of Helen Stouffer Kaiser)
John S. Kelso Jr
1941-2004
obituary 1, obituary 2, (txt)
Samuel Cyrus Stouffer
1914-2004
obituary, photo (brother to Helen Stouffer Kaiser - wife of Paul Gordon Kaiser)
Charles Wallace 'Wally' Kaiser
1911-2004
obituary, article
Bertha M. (Henry) Wilson
1942-2006
obituary (daughter of Mary (Kaiser) & Owen Henry)
Owen Clarence Henry
1909-2006
obituary, photo (husband of Mary Loretto Kaiser)
Other Resources
As I checked out Ancestry.com, (free registration required) I found quite a bit of new info on our ancestors from several other people's contributions there.
Daniel Wenger's DLW database provides a great deal of information on Emma May (Wingert) Kaiser's side, going back many generations on the Wingerd/Wenger side. Start at Hezekiah Wingerd or Harry Albert Kaiser. (DLW periodically reloads his database, changing IDs and URLs, so you might need to search for it if these links fail)
Amy Blumberg (my cousin) has a tree with info on the family of Henry F. Kaiser
Note: If you are interested in our Wilkinson-side genealogy, you'll have to contact my Dad (Richard Wilkinson) or my aunt, Sue Thompson. They are the serious researchers for that side, and have traced our family back and forth for many generations and several potential books' worth. Email me for their contact info if necessary.
File Types: